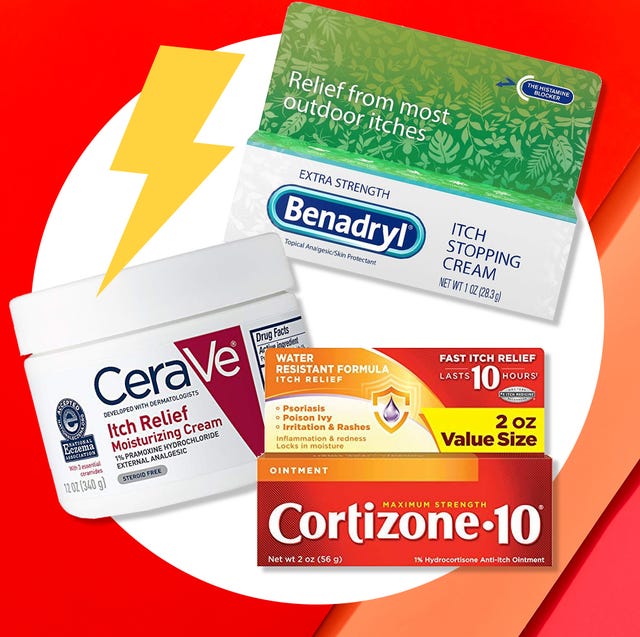 Christine Giordano
Whether you have itchy, irritated skin from an allergic reaction, skin sensitivity, or pesky bug bite, one thing is for sure: You want relief ASAP. You may try quelling the discomfort with an ice pack, but when that doesn't cut it, you may need to turn to an anti-itch cream for help.
Before running to your local pharmacy, you should get to know what may be behind your skin itch because you may need a different treatment depending on the cause. You probably know that summertime itchy skin is commonly due to mosquito bites, or potentially from poison ivy or other rashes after spending extended time outdoors.
Itchy skin may also be caused by skin barrier disruption, skin dryness, a genetic predisposition, or inflammatory conditions like eczema, according to Joshua Zeichner, MD, the director of cosmetic and clinical research and an associate professor of dermatology at the Mount Sinai Hospital in New York City. "Collectively, they lead to an increase in inflammatory signals in the skin that drive the itch response," he explains.

While anti-itch creams can be a temporary lifesaver, if you're not seeing improvements within two weeks, Dr. Zeichner recommends visiting a dermatologist.
Here are 12 dermatologist-approved anti-itch creams. Because let's be honest, itchy skin is a nightmare.
1
Best Overall
Maximum Strength Ointment
This is a good anti-itch cream to keep on hand in your medicine cabinet. "For mosquito bites or mild cases of poison ivy, the product I recommend most often is hydrocortisone formulated as a single active ingredient, which can be found in this ointment," says Dr. Katta.
2
Best for dry or sunburnt skin
Moisturizing Cream for Itch Relief
This gentle cream is a good option for other itchy conditions, such as dry skin, sunburn, and irritation due to insect bites, according to Dr. Katta.
3
Best for dry, sensitive skin
Eczema Therapy Daily Moisturizing Cream
Aveeno anti-itch cream is a top pick to stymie scratchiness. Dr. Katta recommends this cream, which contains soothing colloidal oatmeal, for those with dry skin in need of a strong moisturizer.
4
Best for killing germs
Pain & Itch Relief Antiseptic Gel
This medicated gel is a good option to instantly relieve itching from bug bites and stings, irritated skin, and even minor burns. The antiseptic properties also help kill germs and prevent infection.
5
Best for allergy symptoms
Itch Stopping Cream Extra Strength
This histamine-blocking cream can bring soothing relief to itching caused by outdoor aggravators, like bug bites and poison ivy.
6
Best cooling anti-itch cream
Medicated Anti-Itch Lotion
Gold Bond is another good option for outdoor-related itching, and with menthol as its active ingredient, you'll quickly notice a cooling sensation of relief upon application.
7
Best Multipurpose Anti-Itch Cream
1% Hydrocortisone Anti-Itch Relief Cream
Formulated with 1% hydrocortisone, this cream is effective for stopping any itch. You'll also get the added bonus ingredient of triple oat complex to relieve the dryness and irritation that can come with scratchy skin.
8
Best for eczema
Itch Defense Calming Body Lotion
If your main issue is dryness, a moisturizing lotion may be all you need. This one, approved by the National Eczema Association, aims to restore the skin's barrier to prevent further irritation and can also provide relief from eczema.
9
Best for moisturizing
Skin Calming Cream
This oatmeal-enriched cream provides all-day relief from dry, itchy skin. It goes on so silky smooth and isn't sticky, so you may want to make this your daily body moisturizer all year.
10
Best for daily use
Anti-Itch Concentrated Lotion
Containing triple oat complex and natural colloidal oatmeal, this lotion can bring relief from itching and rashes caused by poison ivy, insect bites, and other causes, in addition to providing relief from general skin itching and dryness.
11
Best for bug bites
Maximum Strength Creme With Aloe
Dr. Zeichner recommends applying this 1% hydrocortisone cream to bug bits twice a day to reduce itch and swelling. This cream also contains aloe vera to help calm your skin for up to 10 hours.
12
Best for private area
Zinc Oxide 20% Skin Protectant Barrier Ointment
If you're looking for an anti-itch solution for sensitive areas (like your vagina and anus), Dr. Zeichner recommends this ointment containing zinc oxide. Zinc has anti-inflammatory properties and will help coat the surface of your skin and prevent chafing. FYI, this is the same type of cream used to treat diaper rash.
Andi Breitowich
Andi Breitowich is a Chicago-based writer and graduate student at Northwestern Medill.
Emilia Benton
Emilia Benton is a Houston-based freelance writer and editor.
This content is created and maintained by a third party, and imported onto this page to help users provide their email addresses. You may be able to find more information about this and similar content at piano.io