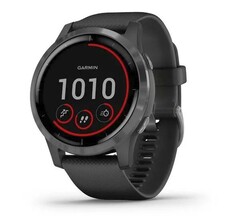 With the same feature set and different sizes, the Garmin Vivoactive 4 and 4S GPS smartwatches sport a Pulse Ox sensor, stress and women's health tracking, advanced sleep monitoring, and more. Both versions have a list price of US$329.99, but Amazon's ongoing discounts push it down to as little as US$176.47.
After more than 3 years since their introduction, the Garmin Vivoactive 4 and 4S smartwatches are still popular and, thanks to the ongoing 4x% Amazon discounts, worthy of the attention of many potential buyers. Their list of highlights includes advanced health tracking capabilities, multiple sports apps and workouts, a rich set of personalization options, as well as support for the Garmin Pay contactless payment solution.
The Garmin Vivoactive 4 has a size of 45 mm and comes in only two color choices, namely black and silver (with a gray band). Both color choices receive the same generous discount of 45%, which brings the US$329.99 list price down to US$179.99. The smaller Vivoactive 4S has 40 mm in size and is available in black, light gold with light pink band, rose gold with white band, and silver with gray band. All gets the same 47% discount, so the aforementioned list price is now down to US$176.47. An in-depth article regarding the differences between the two versions can be found here.
Although the battery life of only 5 hours with the GPS function enabled can be considered a serious drawback, the Garmin Vivoactive 4/4S has been rated by more than 14,000 users and its Amazon product page contains no less than 697 answered questions. The 4.5/5 rating is the result of 75% perfect scores, 14% 4/5 ratings, and a few percent for each of the remaining scores. The breakdown by feature starts with a 3.9/5 for battery life and contains a 4/5 score for sleep tracking, 4.1 for the device's mobile app, 4.2 for accuracy, and 4.5 for its workout-related features.
Disclaimer: Notebookcheck is not responsible for price changes carried out by retailers. The discounted price or deal mentioned in this item was available at the time of writing and may be subject to time restrictions and/or limited unit availability.
Amazon (see affiliate link at the end of the article)
Codrut Nistor – Senior Tech Writer – 5719 articles published on Notebookcheck since 2013
In my early school days, I hated writing and having to make up stories. A decade later, I started to enjoy it. Since then, I published a few offline articles and then I moved to the online space, where I contributed to major websites that are still present online as of 2021 such as Softpedia, Brothersoft, Download3000, but I also wrote for multiple blogs that have disappeared over the years. I've been riding with the Notebookcheck crew since 2013 and I am not planning to leave it anytime soon. In love with good mechanical keyboards, vinyl and tape sound, but also smartphones, streaming services, and digital art.
Codrut Nistor, 2022-11-23 (Update: 2022-11-23)