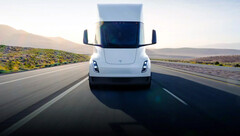 A utility company has run the numbers and warns that the US grid can't provide the charging power for all the upcoming electric trucks like the Tesla Semi that will be released on December 1. The electrification of a typical gas station would demand the amount needed for a sports stadium, while a regular truck stop would need the electricity of a small town.
A surge in EV charging demand, especially of the megawatt kind required for electric trucks like the Tesla Semi, would overwhelm the US grid, warns utility company National Grid Plc. Their numbers show that the electrification of just one regular gas station would put a strain on the grid equivalent to that of a sports stadium in 2030.
A common truck stop full of Tesla Semis or similar electric rigs, on the other hand, will have the electricity consumption of a small US town by 2035, while a highway plaza electric truck and car stop will need the power of an industrial plant by 2045.
The issue is not with the amount needed, as even in the worst-case scenario with rapid passenger and freight vehicle electrification, the global electricity demand would only be up 15% by 2040, but rather the speed and output that the charge needs to be delivered with.
The Tesla Semi has a 82,000 lbs (37,195 kg) Gross Weight which it can truck along for up to 500 miles (804 km) on a charge, and its up to 1MWh battery estimate can recover 70% of its capacity in 30 minutes of charging. Tesla wants to solve the grid load problem by topping up the Semi at exclusive Megacharger stations that will be powered by solar energy. One such Megacharger, for instance, is built at the Modesto factory of the Semi's first customer – Pepsi – and Tesla will be holding a dedicated launch event to celebrate the first Semi truck deliveries there on December 1.
Just like its Superchargers and newfangled North American Charging Standard, though, Tesla's Semi truck Megachargers will also have a competitor in the face of the 3.75MW Megawatt Charging Standard (MCS) for heavy-duty electric vehicles whose documentation is expected to be codified by the respective certification bodies in 2024.
Since numerous long-haul cargo truck makers like Volvo, BYD, Daimler, Toyota, and others will be releasing electric rigs, Tesla's Megachargers may have to compete with MCS ones for truck stop placing, as their first 1MW stations are said to be compatible with Tesla vehicles as well. For now, the first 100 Tesla Semi trucks that Pepsi ordered, would benefit from a Megacharger plaza built directly on the plant's premises.
If you want to attend the Semi delivery event as a retail shareholder, please make sure you have a verified shareholder status on our IR website (unverified manual submissions are eligible if the paperwork is correct). We'll be doing a random draw where 1 share = 1 entry. https://t.co/odL8a0t43L

— Martin Viecha (@MartinViecha) November 11, 2022
Daniel Zlatev – Tech Writer – 467 articles published on Notebookcheck since 2021
Wooed by tech since the industrial espionage of Apple computers and the times of pixelized Nintendos, Daniel went and opened a gaming club when personal computers and consoles were still an expensive rarity. Nowadays, fascination is not with specs and speed but rather the lifestyle that computers in our pocket, house, and car have shoehorned us in, from the infinite scroll and the privacy hazards to authenticating every bit and move of our existence.
Daniel Zlatev, 2022-11-15 (Update: 2022-11-15)